Robert Indiana: Where there's LOVE there's HOPE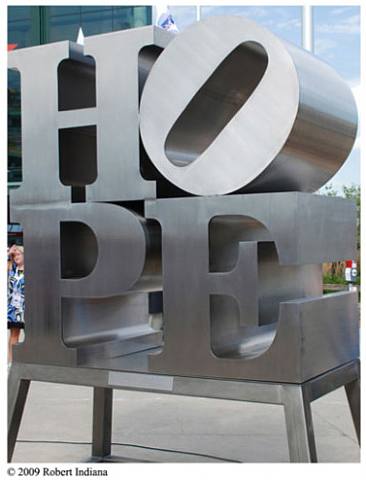 Robert Indiana's stainless steel sculpture HOPE (2008) will be unveiled at Jim Kempner Fine Art in Chelsea on Thursday January 15, 2009 at 2:30 pm, just in time for the inauguration of President Elect Barack Obama.
Everyone knows Indiana's iconic LOVE sculptures, graphics and paintings. The image was first created for a Christmas card for the Museum of Modern Art in 1964 and later included on an eight-cent United States Postal Service stamp in 1973. (A moment of silence, please, for when eight cents was enough to get a letter delivered
).
Sculptural versions of the image have been installed at numerous American and international locations, including the Israel Museum in Jerusalem in 1977, spelling out "Ahava" (Love) in Hebrew letters.
To coin a new wrinkle on an old saw, where there's LOVE there's (eventually) HOPE, as described in a gallery press release.
Jim Kempner Fine Art is pleased to present HOPE, Pop artist Robert Indiana's follow up ... to his classic LOVE ... This six foot stainless steel HOPE had its debut in front of the Democratic National Convention in Denver last August under high security and was closed to the public; this will be the sculpture's first open to public viewing... HOPE was the subject of over [a billion] Internet hits, was syndicated internationally with keynote appearances in the Washington Post, USA Today and The Miami Herald and featured in Art In America. The exhibit will also include variations of the HOPE image on canvas and on paper.



In gestation for over a decade, HOPE was brought to fruition to help elect Barack Obama and raised over $500,000 for the Obama campaign. It was used effectively as a visible tool in such important states as Pennsylvania [where a LOVE sculpture presides over Philadelphia], Indiana, Denver, Virginia and Maine ...





As part of the Inaugural Hope Exhibition, a special performance entitled HOPE: AMERICAN DREAMERS has been conceived and choreographed by Teresa Smith. This short work is a piece of what will be a major work with sets and costumes by Robert Indiana, music by Will I AM, a film by Kevin Chapados and spoken word by various artists.
A graphic in "patriotic" red, white and blue is also for sale.
There are obvious similarities between LOVE and HOPE, each based on a four letter word, rendered all in serifed CAPS and stacked in two horizontal rows, with an oblique "O" in the upper right and an "E" anchoring it just below. Not to be a curmudgeon, but I seem to recall another slogan from the Obama campaign, "Change", which might have presented Indiana with a whole New Deal of six letters. One can only imagine what he might have made of it. Would it be CHANGE we can believe in? Here's a quick mock up of one possibility.




C
H
A


N
G
E