Jerry's Night at the Guggenheim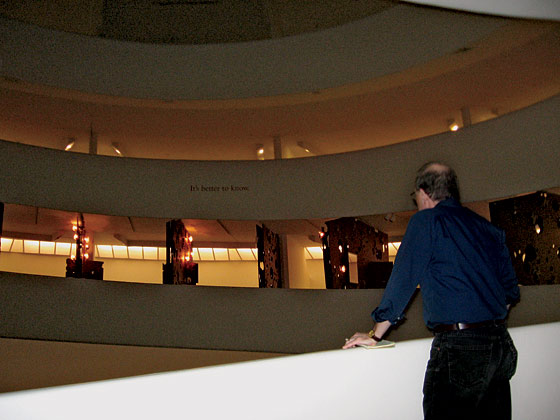 Jerry Saltz was allowed an overnight stay at the Guggenheim Museum in the context of theanyspacewhatever exhibition, which I have previously discussed on these pages, but have not yet seen.
My comments below were first posted online in response to his review of the exhibition, and the experience, in New York Magazine.
I have not yet seen theanyspacewhatever, but that did not stop me from characterizing it, several weeks ago, after reading and hearing various accounts, as not just tepid RA (relational aesthetics) but essentially MT (empty). Feel free to consult my blog entries:
Here,
here,
here,
here,
here,
and here.
Jerry agrees that the show is thin, that it does not successfully encompass RA. I'm sorry Roberta wasn't there to share his sleepover, but she had already published her New York Times review of the show on Halloween. Jerry seems to have experienced his own horror film epiphanies, like "the last man on earth" and "things that go bump in the night". The whirrs, echoes, and clanking or gulping air filters represent non-human machinations at the Guggenheim. As to its human machinations, I'm sad to report these are often a conflation of privilege and pettiness.
Is there a sly co-optation in being allowed to spend a night at the museum, a bestowal of institutional intimacy and familiarity only awarded to those with power, connections, influence or the right sort of money? What it seems to have provoked in Jerry is an amalgamation of insomnia and naughty transgression, even without the sex. Still, it did not alter his opinion that, in this first US survey of RA, much was lost.
So, would my actually entering the museum and seeing the show alter my opinion? Probably not. But should I ever go, I promise to get back to you.